Check out our 2013 Holiday Gift Guide, win some awesome gadgets!
Our 2013 Holiday Gift Guide is in full swing - we are adding our recommendations daily, aimed at men, women, teens, families, techies, and more. If you need help figuring out what to get the people in your life, head on over to our Guide for some ideas. We'll even be giving away some of the items featured this year!
First up? We're giving away an iPad mini, Rdio subscriptions, and more!
Monday December 17, 2007 9:06 pm
WWE RAW Reflections (12/17)

Tweet
Posted by David Onda Categories: Action, Prime Time, Sports, Cable, Cable/Satellite, Editorial, Features, News, Spoilers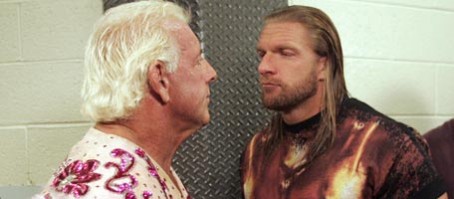 Fresh off of last night's Armageddon pay-per-view, it's time for Monday Night RAW! Last night, Edge became the World Heavyweight Champion by defeating Batista and The Undertaker, WWE Champion Randy Orton retained the title over Chris Jericho when JBL interfered and Shawn Michaels beat Mr. Kennedy. Tonight, we've got a big divas match, Ric Flair vs. Umaga, a tag title match and a big return to RAW.
The show kicks off with a delicious "Santa's Little Helper" match featuring Victoria, Layla, Jillian Hall and Melina taking on Kelly Kelly, Mickie James, Michelle McCool and Maria. Jillian opened with her usual entertaining destruction of a Christmas classic. All the girls look absolutely amazing. Kelly Kelly has really gangly looking legs. Lillian Garcia accidentally announced Kelly with the heel team - awkward. Maria wrestled the least, while Kelly botched a move at some point. McCool is starting to get some respect and seems to be getting to work a good portion of women's matches. Once again, Mickie seems to be the sexiest of all the divas. I don't know what it is, man. She is just on fire. Mickie scores the pin on Victoria for the win. Couple of nice impact moves and sells from Melina in this one.
Join me after the jump to find out which retired WWE Champion is joining the RAW roster.
Mr. McMahon squashes the divas' celebration by coming to the ring and blabbering on about how he was disrespected last week on his show. Anyone else notice that Vince is reverting to his "pre-exploding limo" state? Crazy and delusional, Vince acted like he was going to cry. To the horror of everyone in the arena, Jeff Hardy came to the ring with the intentions of talking on a microphone. [shudder]. Jeff did some lame generic spouting about people disliking Vince. He even compared him to Saddam. Nice one. Vince, still playing crazy, curdled up in a ball in the corner of the ring. When we come back from commercial, he's still there and William Regal is trying to talk him down.
Cue Triple H. The H cuts a pretty hilarious promo when he scoots up next to Vince in the corner and wraps his arm around him and apologizes for last week. I have mixed feelings about Triple H promos. Sometimes they are purposely "outrageous" and kind of lame (i.e. the "new DX" skits) and sometimes they are legitimately funny, like tonight. Regal does a little smack-talking to Triple H and Vince ends up making Regal and Jonathon Coachman vs. Triple H. It would seem that they want to make it look like Triple H will destroy them, but seem to forget that most of us know that Regal is a seasoned vet. Vince says he wants to see someone pay tonight. He's lost his mind, and perhaps - making a face turn? Hmm.
Triple H wins the match via pin on Coach. No surprise there. Overall it was a pretty entertaining match. I'm glad it wasn't a squash and it was nice to see Regal in an good match. Usually his matches bore me to tears. Matches in street clothes also make for a nice little change-up from the norm. Seems as if Y2J and JBL are going to have a face-off tonight. Should be interesting, unless Chris Jericho is as much of a cheese ball as he has been in every single promo he's cut since returning.
Cody Rhodes and Hardcore Holly are World Tag Team Champions - God help us. Granted, Holly is a great person to put Rhodes on the road with. If a young guy is going to learn how to improve the technical aspects of his matches, there are few people who will be able to teach him better than Holly. But on the other end of things - I just don't care about watching them wrestle a match. Although I harshly criticized the short-lived Mickie James/Trevor Murdoch angle, I was starting to turn around on the Murdoch./Cade team. If you could put them in a program with an entertaining team - maybe fellow heels - they could do some cool stuff. Is it so wrong to pit heels against heels? TNA makes it work.
Still coming up tonight - Ric Flair vs. Umaga in one of those career-threatening "win or retire" matches and Michaels/Hardy vs. Kennedy/Orton.
So, what? People responded so well to Ric Flair's first farewell speech that they figured they'd give him a 10-minute diatribe this week and lightning would strike twice? Eh, not so much. I understand that it's going to take more than just match after match to sell this "win or retire" angle for Flair, but a farewell speech every week is not the way to go. I don't think any of us are dumb enough to think that this run is going to end anytime soon. I would expect them to build this for as long as possible, possibly coming to a head at Wrestlemania. I think the proof will be in the pudding tonight against Umaga. Proof in the pudding? Ugh.
What a cop out in this match. Would it be so bad for Umaga to take a clean pin or submission loss to Ric Flair? I mean, I can kind of understand having Flair "just pull it off by the skin of his teeth," but would you really kill any of Umaga's non-existent momentum if he lost cleanly? Either way, Flair wins another one and his career will live on. I like this angle, although I don't think it will be any secret when and where Flair loses the match that will end his career. There's really no room for spontaneity in this angle. Unless of course he loses but doesn't actually retire. I'm under the impression that when this angle ends, Flair will actually retire. Until, of course, he gets a cozy one-match return deal a year or so down the road.
Does anyone else find it ironic that Chris Jericho called JBL "irrelevant" and "a wrestling afterthought"? Seems kind of like the pot calling the kettle black. Amazing how wrestling's most anticipated return has turned into wrestling's biggest bust. Jericho has just lost it. I will say, however, that his promo tonight against JBL was pretty good. JBL is a pretty good heel to work off of though. Seems that Jericho has lost that smart edge to his mic work. Instead of playing mind games with his opponents, he takes hacky cheap shots at his mother, or weight or sexuality, etc. Jericho claims he's going to go to Friday Night Smackdown to face JBL in person (he was via satellite tonight). JBL says if he does that, Vinnie Mac will bar him from participating in The Royal Rumble. After a little rubbing, JBL is talked into showing up on RAW and claims he will now be a member of the RAW roster. Nice work by JBL tonight.
Carlito lives. Apparently he has signed a new contract. I guess second chances really do exist in the WWE. He and the always entertaining Santino Marella (accompanied by the lovely Maria) will take on Brian Kendrik and Paul London. I swear that everything Santino touches turns to gold. Even with the lack of charisma and heat that Carlito seems to be conjuring up, Santino makes it enjoyable. The match was pretty good with a lot of fast action. I'm not sure why Kendrik and London haven't been given a World Tag Title run yet. Seems they are being buried in RAW right now. It's too bad because they have this Rocker-ish way of making their opponents look good, even if they aren't.
Randy Orton promo. Not bad. Even better - Triple H and Flair backstage talking about Flair's farewell tour. Vince interrupts and announces that two weeks from tonight (New Year's Eve) it will be Ric Flair putting his career on the line against … Triple H! Now that is what I'm talking about! Some gutsy booking right there! I love that decision. Put one of the top boys against Flair and really give this angle a gut check. You either buckle and end Flair 's career (99.9999% unlikely) or you put Flair over Triple H - hopefully by pinfall or submission. I would be so sold on this angle if Flair wins by pinfall. And not some roll-up pin or low-blow pin-combo - I want to see a clean knock-out move followed by a pin. Bravo for this booking. No face turn by Vince, I guess.
Solid main event tonight. HBK and Hardy vs. Kennedy and Orton was a pretty good match with some solid wrestling. Hardy and Michaels add in just enough speed and excitement to balance Kennedy and Orton's brutal brawling style. When Hardy got the final tag-in and the crowd didn't really pop I was worried about whether he is going to be over for this feud with Orton. Actually, I wondered if it was a good idea to start the match with Orton and Hardy. But in the end, when Hardy hit the twist of fate, swanton and got the pin, the crowd popped huge and really lent to the excitement of the moment. It boggles my mind when I see Hardy climb to the top ropes in three steps and, without hesitation, leaps off the top for the swanton. Tonight, he was lightning fast, and the crowd ate it up.
We are on the road to my favorite pay-per-view of the year: The Royal Rumble. Next week, we've got the previously taped "Tribute to the Troops" show in Iraq. Two weeks from now is the New Year's Eve show with Flair vs. Triple H. If I can get over the eggnog, I'll be here to tell you about it! Happy holidays … and stay tuned!
Related Tags:
armageddon, batista, cade, chris jericho, cody rhodes, edge, friday night smackdown, hardcore holly, hbk, jbl, jeff hardy, jillian, jonathon coachman, kelly kelly, maria, melina, michelle mccool, mickie james, monday night raw, mr. kennedy, murdoch, randy orton, ric flair, santino marella, shawn michaels, the royal rumble, the undertaker, triple h, umaga, vince mcmahon, william regal, world heavyweight champion, world tag team champions, wwe, wwe champion, wwe championship, wwe raw, wwe tag team champions, wwe world heavyweight champion
© Gear Live Media, LLC. 2007 – User-posted content, unless source is quoted, is licensed under a Creative Commons Public Domain License. Gear Live graphics, logos, designs, page headers, button icons, videos, articles, blogs, forums, scripts and other service names are the trademarks of Gear Live Inc.