Latest Video: FilmCrunch 067: Hairspray, Chuck & Larry, Premonition reviewed
Veronica Santiago and Neil Estep review Hairspray, Chuck & Larry, and Premonition in this episode of FilmCrunch.
Play Video
Posted by Rhys Alexander Categories: Comedy, Cable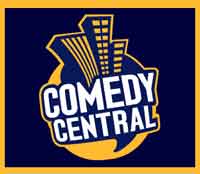 Popular network Comedy Central, well known for its groundbreaking fodder with shows like South Park, is looking for the next great sense of humor. With Comedy Central Test Pilots, viewers can submit a video 'pilot' anywhere from one to five minutes in length, and possibly receive a development deal. Wow, now that's a good use of your time.
The show can be in any format including animation and hidden camera. Comedy Central only has one request: it can't 'suck.'
Go ahead and give it a try. You never know: the TV Envy staff could be writing about your show sometime soon. And we promise to be nice. Maybe.

Read More
| Comedy Central
Posted by Christopher Stone Categories: Comedy, Prime Time, NBC, Scrubs, Editorial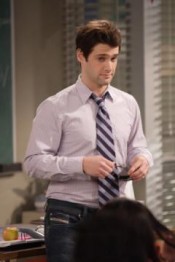 When an NBC comedy is good, it's frequently very good. Just for openers, I'm thnking Frasier, Friends, and Seinfeld. Other times, NBC's good comedies are simply good. In this case, my mind turns toward Scrubs, My Name is Earl, and The Office. On the flip side, when an NBC sitcom is bad, it's likely to be god-awful. Couplings and Four Kings are two fairly recent examples. Last month, their rank was joined by Teachers, a situation edu-comedy about quirky, young teachers at a New Jersey high school.
Teachers, like The Office, is an adaptation of a UK hit. But, instead of The Office-style lightning striking twice, NBC has served up the Second Coming of Couplings. The network believed that the young and attractive cast would draw the coveted 18-49-year-old demographic. The cast might have pulled in big Nielsen numbers if it wasn't simply re-arranging flotation devices on a Titanic of a sitcom. Somebody, please give Sarah Alexander (a survivor of the Couplings debacle), Justin Bartha, and Deon Richmond something worthy of their ability and potential. A few more sh**coms like Teachers, and the Peacock Network will be reduced to stripping special two-hour editions of Deal or No Deal, five nights a week.
Posted by Rhys Alexander Categories: Animation, Award Shows, Comedy, Editorial, News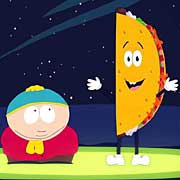 Is the sky falling? Did hell just freeze over? No doubt some stuffy television viewers think so. An illustrious Peabody award, long respected for recognizing the best in television writing, has been given to South Park.
That's right; one of the raunchiest, naughtiest shows on TV has received the award long known for choosing the most dignified, uplifting, respectable television writing. And now that includes…South Park? We only have one question: what took so long to give this show an award like this?
Raunchy it may be, but South Park has long featured some of the wittiest, most enjoyable, socially aware writing on television. Featured in everything from documentaries to college classroom lectures, the adventures of Cartman and the gang can always be counted on to engage thought and conversation. In fact, it is often (dare we say?) downright brilliant. Certainly, this signals a delightful new trend in television: ignoring naysayers and prejudices in the quest to recognize true quality. Congratulations, South Park!

Read More
| E! Online
Posted by Rhys Alexander Categories: Comedy, NBC, The Office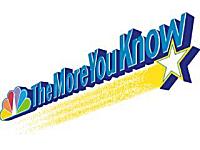 Ah, those The More You Know public service announcements on NBC, featuring television stars speaking earnestly to the camera. They are so annoyingly straight-laced and slightly intrusive, with their entreaties to avoid drugs, eat dinner as a family, and bond with your children that we're sometimes tempted to do the evil opposite, just to spite them.
Apparently, even NBC can take a joke. The network recently produced a series of online advertisements spoofing their own public service announcements. The faux-earnest ads educate viewers about everything from "short people" to "jellybeans." With NBC appearing so good-natured, we can almost forgive them for canceling the brilliant Freaks and Geeks. No, we can't. We'll never forgive them for that. But check out the ads anyhow; they're a hoot.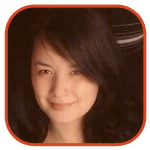 Posted by Veronica Santiago Categories: Comedy, Prime Time, ABC, Desperate Housewives
Alrighty then. Kyle MacLachlan, most recently on the failed drama In Justice, will be making his debut on another ABC show very soon. The former Twin Peaks star is probably best known to the Housewives' female audience as Dr. Trey McDougal on Sex and The City, so starring with another gaggle of women should come as no problem to him. Let's just hope that he doesn't have another impotency problem when he tries to woo Susan. As if she didn't have enough man problems. MacLachlan's first air date is scheduled for April 16. He is scheduled to appear in several episodes and may even be seen again this fall.
Posted by Christopher Stone Categories: Comedy, Prime Time, ABC, Cable, Desperate Housewives, Rumors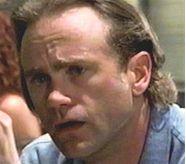 Lee Tegersen, for six seasons compelling as Tobias Beecher, convicted of Vehicular Manslaughter on HBO's unflinching prison drama Oz, has resurfaced on the last two episodes of the Alphabet Network's Desperate Housewives. What's more, the good-looking actor, frequently in scenes of full frontal nudity and Brokeback-like prison sex on Oz, is playing a clean, sober, and straight recovering alcoholic on Housewives.
Tegersen's character, Peter McMillian, was Bree's Alcoholics Anonymous sponsor in his first episode (March 26). In his second Desperate outing (April 2), Lee as Peter fled the Van De Kamp house after Bree kissed him. It's not that McMillian is immune to the charms of Wisteria Lane's hottest redhead. As it happens, Peter is not only a former alcoholic, he's also a recovering sex-aholic who's not quite ready for dating.
In his real, not reel, life, Lee Tegersen, 40, is rumored to be dating 60-year-old Cher. I say, "What's a mere 20-year age difference between lovers if your squeeze is a show business legend?"
Read More
| HBO
Posted by Christopher Stone Categories: Comedy, Prime Time, Cable, Showtime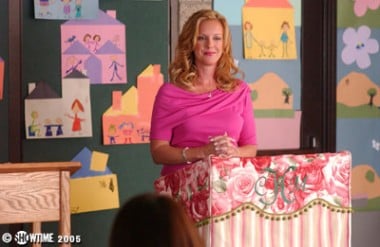 Watching a Weeds rerun on Showtime Friday night, I was reminded that the Mary-Louise Parker, Elizabeth Perkins series is one of the smartest half hours on television. From it's contagious opening theme song, "Little Boxes," to its dark, offbeat characters, and skewed situations. Weeds is always worthwhile.
The series is a filmed comedy noir about the dirty secrets just beneath the squeaky-clean tract facade of fictional, suburban Agrestic, California. Parker plays a widow and mom who peddles pot to Agrestic in order to maintain her family's lifestyle. Earlier this year, she won a Golden Globe for Best Performance by an Actress in a Television Series Comedy. Even so, Weeds' first season played to a small, if devoted, audience.
Three cheers to Showtime for not taking the Weed Whacker to the award-winning, critically popular series. Au contrare, the network has ordered a 12-episode second season. Now in production, Weeds' devotees can see fresh episodes this summer.

Read More
| Weeds
Posted by Christopher Stone Categories: Comedy, Prime Time, Cable, HBO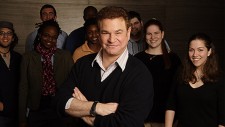 HBO has television's best track record with comedy specials. That's why I'll be watching tomorrow night at 10 PM ET, when the network premieres its latest comedy fest, Assume the Position, starring Robert Wuhl, formerly of the HBO series Arli$$.
In the special, Wuhl appears as a guest "professor" before an actual classroom of New York City College students to satirically explore the stories that made up America and the stories that America made up.
I hope he includes one of my personal favorites: After the Nina, the Pinta, and the Santa Maria landed on our shores, the ships' crews were highly disappointed. Everything in the New World was closed in celebration of Columbus Day.

Read More
| HBO's Assume The Position
Posted by Rhys Alexander Categories: Comedy, ABC, NBC, Scrubs, Internet, News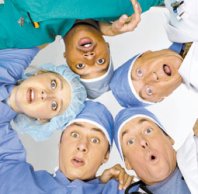 The NBC comedy, Scrubs, is so good that it has the power to unite enemies. In a television first, the warring networks NBC and ABC will join together to bring the popular comedy to iTunes. If you are a tragic soul who has never seen the show, Scrubs follows the adventures of John "J.D." Dorian, played by Zach Braff, through his years as a fledgling emergency room physician. With a wildly talented cast, and unparalleled writing, Scrubs is the best comedy on television today.Executives agree, and are counting on the highly-rated show to attract viewers in the coveted 18-49 age group.
As always, each iTune episode will cost $1.99 to download. We're thrilled. You can never have too much Scrubs!

Read More
| LA Times
Posted by Christopher Stone Categories: Comedy, Prime Time, ABC, Editorial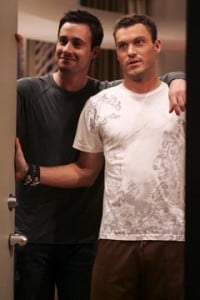 Following last night's Eva Longoria festooned 100th episode of The George Lopez Show, I looked again at Freddie, another ABC-TV Latino comedy. This one is in its freshman year and stars Freddie Prinze Jr. From the same team that gave us the George Lopez and Drew Carey sitcoms, Freddie exhibits the aforementioned series' flaws, too. The stories are simple and tired, reminiscent of American Vaudeville sketches, and the dialogue is dull.
Charming, handsome, and talented, Prinze Jr. is poorly served by this barely mediocre vehicle. Most episodes, including last night's tepid shenanigans, focus on Freddie's attempt to get - and to keep - a woman, despite interference from a well-intentioned, but disaster-prone, live in family.
The cast has snap, crackle, pop that begs better words be put in their mouths, and stronger situations between their script covers. Freddie has great chemistry with Brian Austin Green, who plays his dim, egocentric, libidinous buddy. As Grandma, Jenny Gago steals every scene in which she appears, and the show's best dialogue is reflected in her Spanglish to English translation titles.
"Freddie and the Hot Mom" had Prinze enamored of his niece's friend's comely mother. First, the daughter is against Freddie dating her mom. Later, Prinze's niece Zoey feels threatened by her uncle's new girlfriend. If one's plot is nonsense, then it had better be inspired nonsense. Lucy's was. Freddie's is not.
Certainly I appreciate the difficulty of churning out Seinfeld or Will & Grace-sharp dialogue every week. But Freddie's consistently anemic scripts make the series fall into the category of "don't see" TV.
Prinze deserve better, as do his cast and crew.
© Gear Live Media, LLC. 2007 – User-posted content, unless source is quoted, is licensed under a Creative Commons Public Domain License. Gear Live graphics, logos, designs, page headers, button icons, videos, articles, blogs, forums, scripts and other service names are the trademarks of Gear Live Inc.