Check out our 2013 Holiday Gift Guide, win some awesome gadgets!
Our 2013 Holiday Gift Guide is in full swing - we are adding our recommendations daily, aimed at men, women, teens, families, techies, and more. If you need help figuring out what to get the people in your life, head on over to our Guide for some ideas. We'll even be giving away some of the items featured this year!
First up? We're giving away an iPad mini, Rdio subscriptions, and more!
Latest Video: FilmCrunch 067: Hairspray, Chuck & Larry, Premonition reviewed
Veronica Santiago and Neil Estep review Hairspray, Chuck & Larry, and Premonition in this episode of FilmCrunch.
Play Video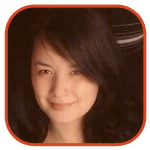 Posted by Veronica Santiago Categories: Drama, Prime Time, ABC, Lost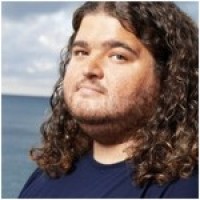 Have you ever wondered how Hurley manages to keep up his weight despite being on a 'deserted' island? Well, now you can sample what he's been eating.
In an attempt to keep up the intrigue about the show, the promoters of Lost are now giving out the infamous 'Apollo' chocolate bars. A.K.A. the candy left behind by the Hanso Foundation.
If you're lucky enough to be in Seattle or New York this Thursday—you might be able to snatch up one of the limited few.
Read More
| Apollo Candy


Posted by Wendy Michaels Categories: Comedy, Music, Prime Time, NBC, Scrubs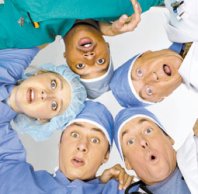 Here's some good news for fans of both Scrubs and musicals—the series' sixth episode this season will be a musical. For non-musical fans, this may not be such a great thing, but I'm curious to see how they pull it off. TV Guide's Michael Ausiello had the opportunity to interview Scubs creator Bill Lawrence about the episode. Apparently, Lawrence called on the talent behind the Broadway musical Avenue Q to help out with the logisitics, which he calls "a big pain in the ass"—with additional rehearsals and recordings necessary to pull the whole thing off. Scrubs diehards are likely to think this is a genius move, since the series already incorporates its fair share of music and dancing (anyone catch Turk's air guitar number?). The cast is for the most part excited about the prospect, with only some grumblings from Sarah Chalke—according to Lawrence, she's not allowed to sing (I guess she's not as good as the other cast members), but he needs to find a way to incorporate her character into the whole musical madness. The plot of the episode centers around a woman who has an aneurism and sees everything as a musical. According to Lawrence, this is based on an actual medical case where a woman who suffered an aneurism thought every time someone spoke to her, they were singing. Now the question—when will the episode air? With the series not set to start until mid-season, we will need to wait until early 2007 to check this out.
Read More
| TV Guide


Posted by Wendy Michaels Categories: Prime Time, Reality, CBS, Survivor, News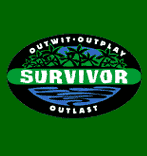 I had read a couple of days ago that the new season of Survivor would pit races against each other, but quickly dismissed it as rumor. Now I see the story has been confirmed by People magazine, reporting that Survivor's new twist this season will be to divide the contestants by ethnicity. The cast of Survivor: Cook Islands will have 20 contestants divided into four tribes: black, white, Asian and Latino. Said creator and executive producer, Mark Burnett, "We're going to take some heat for it, but it's a great cast." Take some heat for it? It may generate a lot of discussion and, therefore, more interest (translating to higher ratings), but it also may come back to bite them. Since the show is in its 13th season, perhaps there are fewer innovative twists to introduce, but this seems a drastic approach. Host Jeff Probst said of the new season, "Some people will think this is controversial. Others will think, 'What's the big deal?' Either way, it's going to be very interesting."
The diversity of this season's cast was a result of ridicule that the show has been largely comprised of white contestants. Said Probst of the lack of diversity, "Most of the people who apply are white—that's just a fact." This season will pit the races against each other and perhaps have each group tackling racial stereotypes. With a pirate theme, tribal councils are set to take place on a shipwreck built on the coast of the island.
Survivor premieres on September 14th.
Read More
| People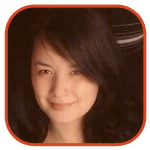 Posted by Veronica Santiago Categories: Comedy, Prime Time, ABC, NBC, Showtime, Degrassi, Desperate Housewives, ER, The Office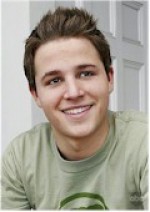 The ending of Will & Grace has taken away two gay roles from our boob tubes this season—and those who care about equal representation for gays should be concerned.
Did you know that of all the regular characters on major networks last year, less than 2% of them in primetime were gay, lesbian or bisexual? And the numbers don't fare much better this year. GLAAD (The Gay and Lesbian Alliance Against Defamation) has been analyzing the numbers for several seasons now. Of the 95 Fall shows announced so far (for ABC, NBC, CBS, FOX, CW and MyNetworkTV), only 9 of the regular characters are gay or lesbian. That's down one from last year. In other words, out of the 679 roles—only 1.3% are homosexual.
Keep in mind—this study only applies to the major networks. Maybe that's why cable is increasing in popularity. We need to turn to shows like The L Word and Degrassi to see greater diversity.
Trivia question: Of the 9 gay/lesbian roles this fall—only 3 are from returning shows. What are those shows? Answer: Desperate Housewives (Andrew), ER (Carrie) and The Office (Oscar - the closeted gay).
Read More
| Houston Chronicle


Posted by Wendy Michaels Categories: Comedy, Prime Time, NBC, Scrubs, News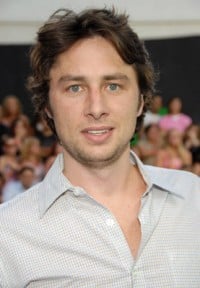 Say it ain't so… the rumor mill is buzzing about the possibility of Zach Braff leaving after this season of Scrubs. Braff was quoted in Premiere magazine, saying "My guess is that this will be my last season. Whether or not they continue without me, I don't know. I have had this amazing run on the show and I love it and I'm so grateful, but I want to make movies full time." Well, that sounds fairly official—coming from the horse's mouth and all. Part of me, however, doesn't want to believe it could be true. Scrubs has been such a reliably funny show, in large part because of Braff. While the ensemble is a strong group, I'm not sure if the series could continue to be as good without Braff's character. Then again, there's speculation that this just might be the last season of Scrubs since their renewal was announced late and the show will again be returning mid-season—both indicators that NBC isn't that invested in the show. Braff certainly has talents elsewhere with writing and directing, so it's not surprising that he would want to pursue that more and continue to grow his career in that direction. Still… his crazy JD character will be sorely missed.
Read More
| TV Squad

Posted by Christina Furtado Categories: Mini Series, Prime Time, Cable, HBO, Talent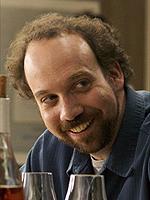 Yesterday, Variety reported that Paul Giamatti will play John Adams in a seven episode HBO miniseries based on the David McCullogh bestseller John Adams. Tom Hanks and Gary Goetzman are executive producing the project, which begins filming in Virgina in January, and is slated to air in seven hour-long parts starting in March 2008.
The miniseries will focus on Adams' time as a Massachusetts lawyer working behind the scenes to facilitate the American Revolution rather than on his time as the second President. I have not read McCullogh's book, but apparently it is partly based on the famous correspondence between Adams and his wife Abigail during the period (these letters are also immortalized in the musical 1776).
I'm very excited by the idea of this project, and I think Giamatti is a great choice to play Adams. I was just rewatching Cinderella Man, a highly underrated movie, last night, and he's great in it. I'm glad he's moving on to bigger and better things after the fiasco of Lady in the Water. I also can't wait to see who else will be cast. This almost makes up for the cancellation of Deadwood, HBO—but only almost. Actually, no, it doesn't, but it's a good start at getting back in my good graces.
Read More
| Coming Soon


Posted by Wendy Michaels Categories: Comedy, Prime Time, NBC, News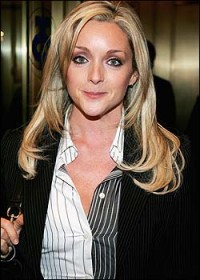 Just on the heels of the announcement that Rachel Dratch's role on 30 Rock would be facing some changes, the latest word is that Jane Krakowski will be taking over the part originally filled by Dratch. Krakowski will be playing the star of "The Girlie Show"—the fictional show around which 30 Rock centers. If you've been following the fall premieres, you may recall that this is the role that Dratch was set to star in. The recent news from Lorne Michaels, executive producer of the series, was that Dratch would now be taking on a variety of characters on the show. Says Michaels of Krakowski joining the series, "Jane is enormously talented and everyone is thrilled that she is joining the cast. I think it's going to be a perfect fit." The show also stars Tina Fey, Alec Baldwin and Tracy Morgan. You may remember Krakowski from Ally McBeal; she is also a seasoned stage actress—but I have fond memories of her as cousin Vicki in the movie Vacation.
30 Rockwill debut on October 11.
Read More
| AOL Entertainment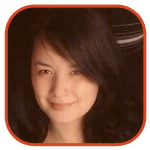 Posted by Veronica Santiago Categories: Comedy, Prime Time, Cable, HBO, Entourage, Features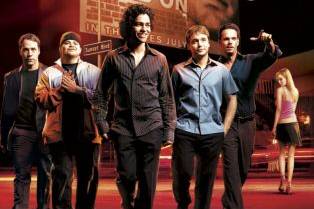 In last week's episode, Turtle was waking up to a big day…this time, it was Drama. Nervous about his first day shooting the pilot, Johnny gets all dressed up. Unfortunately, his outward appearance does not mask the ball of nerves inside. When Turtle jokes to Drama about playing Vince's 'brother' in the Ramones movies, Johnny lashes out at him. Worried that he will suffer a panic attack, the boys suggest ways that he can relax: either take some Xanax or 'relieve' himself before filming. Drama decides to go with neither.
Click to continue reading Entourage: What About Bob?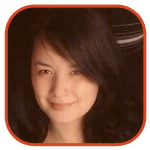 Posted by Veronica Santiago Categories: Drama, Prime Time, FOX, Prison Break, The O.C.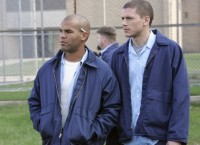 ATTENTION TIVO USERS: IT'S TIME TO START FIRING UP THOSE SEASON PASSES..
The official start of Fall may still be a month away, but fall programming for the major networks begins tomorrow. Okay—maybe only for one network. Forced to deal with the upcoming Major League Baseball playoffs, FOX is hoping to whet our appetites now by teasing us with their lineup. Once we're properly addicted, the network will then regular interrupt our candy intake with sports coverage.
So come this Monday, August 21, we will see the return of last year's hit, Prison Break. When we last left the convicts, the boys had just made their escape from the big house and the feds were still hot on their trail. This season, we will see the addition William Fichtner (Invasion) as an FBI agent brought in to find the jailbirds.
Following Break will be the debut of another drama, Vanished. Vanished's premise will revolve around a senator's wife who is mysteriously MIA. Those investigating the missing persons case will eventually discover that her disapperance has to do with a centuries-old plot. I wonder how long they can keep that one up?? I predict the show will be gone before we know it.
As for the rest of the FOX lineup—we will see the remainder of the premieres in the weeks to come, with the bulk of the shows airing the first week of September. Then there's The O.C. The Mischa Barton-less show won't even crack its premiere until November 2nd. Apparently finding a waif to fit in her shoes takes time.

Posted by Wendy Michaels Categories: Drama, Prime Time, Reality, CBS, Desperate Housewives, Lost, Survivor

CBS will soon be adding full-length episodes of prime-time series this fall. Did I mention they'll be free? CBS' broadband channel, Innertube, launched in May on their website. Beginning in September, CSI (all three varieties), Survivor, NCIS, Numb3rs, and Jericho will be available on Inntertube the day after they are aired on the network. Each will be available for four weeks, with the exception of Jericho and Survivor, which will be available all season. Larry Kramer, president of CBS Digital Media, said that it will "further help us extend the reach of the CBS brand [and] provides a new avenue for advertisers to engage with our programming, which in turn creates a new source of revenue for our company." Commercial-free versions of CBS' shows are also available at iTunes for $1.99 per episode. You may recall that ABC first started offering free episodes of Lost and Desperate Housewives last season—this was an initial test to see how much interest the downloads would generate.
Read More
| Yahoo! News

© Gear Live Media, LLC. 2007 – User-posted content, unless source is quoted, is licensed under a Creative Commons Public Domain License. Gear Live graphics, logos, designs, page headers, button icons, videos, articles, blogs, forums, scripts and other service names are the trademarks of Gear Live Inc.