Latest Video: FilmCrunch 067: Hairspray, Chuck & Larry, Premonition reviewed
Veronica Santiago and Neil Estep review Hairspray, Chuck & Larry, and Premonition in this episode of FilmCrunch.
Play Video

Posted by Wendy Michaels Categories: Music, Prime Time, Reality, FOX, American Idol, Gossip, Internet, Rumors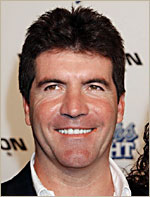 I guess I must have missed it during American Idol last night, but Simon Cowell rolled his eyes during the critique of Chris Richardson. Nothing unusual there, however, it happened right after Chris sent out a prayer to Virginia Tech. This morning, the Internet was buzzing with Cowell's inappropriate behavior. In his defense, Simon said he was responding to the comment that Richardson said about singing nasal-y. He was discussing it with Paula and rolling his eyes, but the camera caught Simon in mid-eye roll when Richardson mentioned Virginia Tech. It begs the question: is Simon Cowell really that cold-hearted of a person? On Ryan Seacrest's radio show, Seacrest said, "We've got to clear this up. There are these people on the Internet trying to make something of this story, and let's just be honest, no human being would be that disrespectful to anybody involved in that awful tragedy." Cowell responded, "No, of course not… The truth was that I had switched off at that point. I was ... saying to Paula, 'What does he mean he was singing nasal-y on purpose?' I didn't understand what he was saying." I'm willing to give Simon the benefit here—while he plays a meanie on TV, I don't think he is that hard hearted.
(You can find all the American Idol 6 posts here.)
Read More
| People


Posted by Wendy Michaels Categories: Music, Prime Time, Reality, CBS, Rock Star, Gossip, Rumors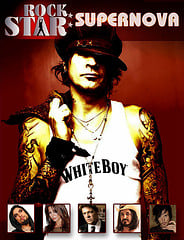 The second edition of Rock Star seemed destined for crappiness as soon as they crowned Lukas Rossi their lead singer. The search for the lead singer of a new band, Supernova, started last year, and by the end of the show there were promises for a big tour kicking off on New Year's eve. An entertainment news program reported that guitarist Gilby Clarke left the group, but Clarke says "I have not left Rock Star Supernova. We just finished the tour. I don't know where they got that from. I did an interview with ET Canada, and we talked about the future of the band, but I never said I've left the band." Whether the band will make it, well, weak concert sales and bad reviews for their debut album don't bode well. Add to that the name issue, although Rossi said, "There will be a name change… the best is yet to come." My bet is the breakup is yet to come. I'm telling you, they should have chosen Toby.
Read More
| Reality TV World


Posted by Wendy Michaels Categories: Prime Time, Reality, ABC, Dancing With The Stars, Rumors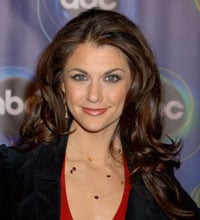 Sparkling E! News correspondent and Dancing With the Stars co-host, Samantha Harris, revealed that she's pregnant with her first child. She and husband Michael will welcome the new bundle this fall. Harris said of the news, "My husband, Michael, and I are so excited to have our first baby. This is a delightful time in our lives." I guess she had to spill the beans because she's been looking a bit more busty these days and people wondered if she had some plastic surgery done. She set the surgery rumors to rest, saying, "I did not get a boob job, but I have put on a little weight because I am happy to finally say I am pregnant." She's not quitting either of her jobs just yet, with Dancing grabbing 18.2 million viewers last week, she is sittin' pretty. Looking forward to seeing what the wardrobe folks do with her growing waistline, though.
Read More
| E! Online


Posted by Wendy Michaels Categories: Drama, Prime Time, NBC, Rumors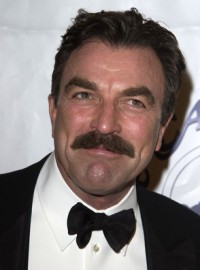 With the announcement that James Caan was leaving NBC's Las Vegas, fans of the show were in a bit of a tizz. Never fear, another manly-man will be taking on the challenge of filling Caan's big shoes. Selleck, famous for Magnum, P.I. and his adorable mustache, is in talks to take on the role as the new owner of the Montecito Resort & Casino. Time will tell if Selleck can save the series after Caan's departure to return to big screen projects. And, oh yeah, the show is also looking to fill Nikki Cox's vacancy, so be on the lookout for another hottie to come strolling into the casino. Regulars Josh Duhamel, Molly Sims, James Lesure and Vanessa Marcil are all still on board for the upcoming fifth season.
Read More
| Yahoo! News


Posted by Wendy Michaels Categories: Music, Prime Time, Reality, FOX, American Idol, Rumors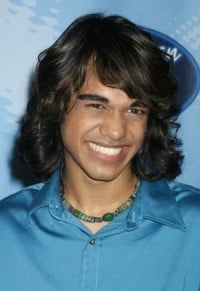 OK, let me start by saying that I really don't want to add to the discussions about American Idol's Sanjaya Malakar and his ever-changing hairstyles. But by golly, I can't pass this one up. KFC President Gregg Dedrick wrote Sanjaya an open letter that said, in part, "If you don a bowl hairdo during one of your next nationally televised performances, KFC will grant you a free lifetime supply of KFC Famous Bowls. We're sure America will be as 'bowled-over' by your take on this classic look as they are by our KFC Famous Bowls." Ugh. Seriously? I don't know what's more ridiculous—a bowl hairdo or a lifetime supply of KFC Famous Bowls. At least this KFC guy threw in something a little more significant: "If you sport a bowl cut, KFC will cut a check in your name to Colonel's Scholars, a charity providing young people with much needed college scholarships." It's unlikely that Sanjaya will bite at this offer, but if we see him with a bowl cut on an upcoming performance, now you'll know why.
Read More
| Reality TV World


Posted by Wendy Michaels Categories: Everybody Hates Chris, Gossip, Internet, Rumors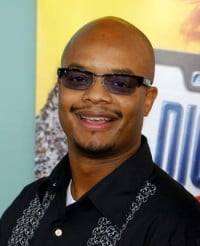 Hot on the heels of Sinbad's false death reports, another death rumor is circulating. This time, it's about Diff'rent Strokes and Everybody Hates Chris actor Todd Bridges. While Bridges has had his fair share of troubles in the past, there is no truth to the current rumors. The news started to spread after a New York radio station reported on the death of a truck driver named Shawn Bridges, who made a documentary of his downward spiral from drug abuse. And then like wildfire, the misunderstood details spread and a web site reported that Todd Bridges had passed away due to drugs. Family members tried to reach Bridges and panicked when they couldn't track him down—he was shopping and had his cell phone on silent, but they eventually connected and everyone was relieved to hear that he is still among the living.
Read More
| Zap2it


Posted by Wendy Michaels Categories: Games, Prime Time, Reality, Rumors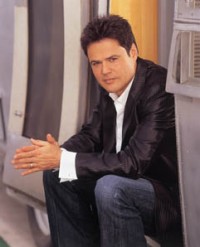 This one is puzzling—a possible reunion of the 70s singing group The Osmonds. For some reason, it doesn't seem like there would be a big demand to reunite Donny and his five brothers, but hey, stranger things have had people tuning in. Donny sang with his brothers during the 70s, then did a little solo work—and now has his 55th album, "Love Songs of the 70s," on the British charts. Fear not, it will be released soon in America. He also had that variety show with sister Marie (remember "I'm a little bit country, I'm a little bit rock n' roll"? No?). "The family has been talking," Osmond said. "I haven't done a show with my brothers for 25 years or so. We are talking about doing a TV special, and maybe something with Marie, but nothing is locked in yet." So, it's not a done deal, but they're talking. For now, you'll have to get your dose of Donny when he begins hosting duties for The Great American Dream Vote, beginning on March 27th.
Read More
| Reuters


Posted by Wendy Michaels Categories: Daytime, Talk Shows, Syndication, Gossip, Rumors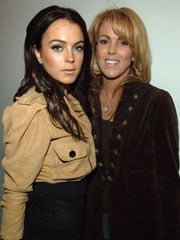 Yikes, is Rosie O'Donnell at it again? This time, Dina Lohan (Lindsay's mom) was scheduled to be a guest on this morning's The View, but Rosie put the kibosh on it. O'Donnell apparently is no fan of mama Lohan's mothering skills. Of course, there was bound to be talk of little Linds, who just finished her rehab, and Dina's image as a "party mom." O'Donnell was outspoken (naturally) on Wednesday's show about an interview that Dina had done with Harper's Bazaar, in which she said "I'm not the party mom!" despite recounting club hopping outings with Lindsay. The producers took notice of O'Donnell's criticisms and The View issued a statement saying, "Dina Lohan was booked to appear this morning on The View, but, at the discretion of the producers, the booking was canceled." O'Donnell is adding to her list of enemies, for sure.
Read More
| E! Online


Posted by Wendy Michaels Categories: Drama, Prime Time, ABC, Desperate Housewives, Gossip, Rumors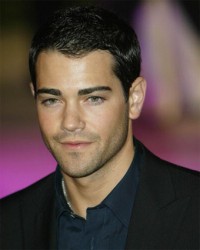 What is the deal with young Hollywood? I guess you can make an argument that celebs like Lindsay and Britney are at least getting help for their troubles. The next rehab candidate is former hottie gardener from Desperate Housewives, Jesse Metcalfe. According to reports, he started treatment at an undisclosed rehab facility on Monday to "deal with alcohol issues." I guess the weekend tuckered him out—according to E! Online, Metcalfe was seen at four L.A. clubs on Saturday. He was also denied a hotel room at an L.A. hotel on Friday because of his drunken behavior. According to his rep, "He realized he had a problem and was anxious to deal with it immediately." Of course, the rep also added the obligatory wish that he "hopes that the media will allow him the privacy to deal properly with his treatment."
Read More
| Yahoo! News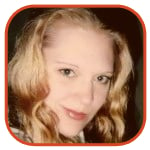 Posted by K.C. Morgan Categories: Music, Prime Time, Reality, FOX, American Idol, Editorial, Features, Gossip, Internet, News, Rumors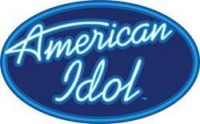 American Idol and scandal have been friends for a long time. The second season of the show alone was rife with media stories, from Studdard's law suits to Abdul's affair, to one contestant's cups that ranneth over. Plenty of Idol fans still remember the day Frenchie Davis was unceremoniously booted from the show because of topless photos. After leaving reality TV, Frenchie went on to find Broadway success. But she hasn't forgotten her brush with TV fame and shame.
A recent article from the Associated Press brought Frenchie back into the television limelight, when the Broadway star stated that she would like to receive a public apology from American Idol. But that's not all she wants, according to the article. Frenchie stated that she was humiliated by the show, and thinks that an apology would be "a great start." The reason all of this is surfacing again, four years later? Her name is Antonella Barba, and despite performances that have been routinely called "pitchy" and photos some might think of as "porn," she keeps hanging around the Idol contestant pool.
Click to continue reading Much More Antonella Barba to Come?
Read More
| TV Guide

© Gear Live Media, LLC. 2007 – User-posted content, unless source is quoted, is licensed under a Creative Commons Public Domain License. Gear Live graphics, logos, designs, page headers, button icons, videos, articles, blogs, forums, scripts and other service names are the trademarks of Gear Live Inc.