Posted by Wendy Michaels Categories: Daytime, Talk Shows, NBC, Syndication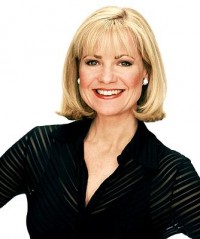 This is great news for Bonnie Hunt fans (which I count myself among)... she's currently working on developing a talk show. Anyone who's ever seen Hunt as a guest on talk shows knows she gives great interviews. Then again, I'm not sure how this will all turn out. Yes, Hunt has appeared in many films and been great (okay, I'll forgive her for Cheaper by the Dozen 2), but she's also tried time and again to get a variety of television series off the ground only to be canceled—remember Life with Bonnie or The Bonnie Hunt Show? Nope, didn't think so. So, how will a talk show work for the actress? Will she flourish a la Ellen DeGeneres or wither away like Megan Mullaly? I think she's got the chops to do it (after all, she's filled in for David Letterman without incident), but I'm not sure she has the huge appeal of an Ellen. Not even sure she can compete with the powerhouse that is Rachael Ray—although I'd much rather see Hunt interviewing the stars than Ray with her super grin and cheesy questions. Bonnie Hunt's show is expected to hit the air waves in 2008 on NBC. I know I'll check it out and I hope others will give it a chance as well.
Read More
| Yahoo! News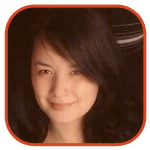 Posted by Veronica Santiago Categories: Award Shows, Comedy, Daytime, Drama, Food & Home, Games, Music, Prime Time, Reality, Specials, Sports, Talk Shows, ABC, Cable, ESPN-HD, FX, FOX, NBC, Syndication, TNT-HD, Oprah Winfrey Show, Cable/Satellite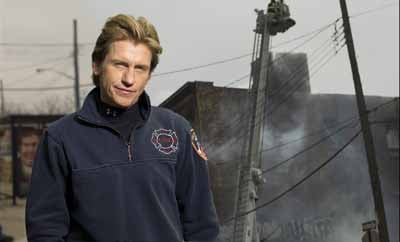 MONDAY (9/10)
Today (NBC, 7-11am): The show expands to an unnecessary 4 hours.
Oprah (syndicated): Season premiere includes a first appearance by David Letterman.
Rachel Ray (syndicated): Ray's Second Season premiere includes guests from High School Musical 2
The View (ABC, check local listings): The official introduction of their final new host (a.k.a. Sherri Shepherd).
Wheel of Fortune (syndicated): 25th season premiere.
Monday Night Football (ESPN): A double-header special. Cincinnati Bengals vs Baltimore Ravens (7pm ET)/ San Francisco 49ers vs Arizona Cardinals (10:15 ET).
The Closer (TNT, 9pm): Part-two of the season finale.
Click to continue reading This Week on TV (9/10-9/16)

Posted by Wendy Michaels Categories: Daytime, Late Night, Talk Shows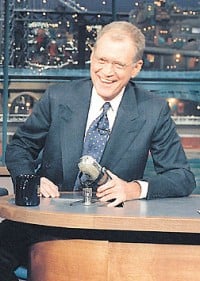 Aww, it's cute that David Letterman and Oprah Winfrey have reconciled. I mean, that whole "Oprah—Uma" thing that Letterman did oh so many Oscars ago is certainly water under the bridge by now? Winfrey finally made her peace and appeared on Late Show in 2005. Sure, she wanted to plug her musical The Color Purple, but it was a stellar reunion nonetheless. Now it's Dave's turn to repay the favor—he'll appear on an upcoming installment of Oprah's talk show, which will tape the week of September 10th. This is big for a couple of reasons—first, Letterman rarely appears on anyone's show; second, it's Oprah. You can't get much bigger than that. I've been a fan of Letterman since I was a kid who could barely keep my eyes open for his show. Come to think of it, I can barely keep my eyes open as an adult for late night television anymore. Have I come full circle? Oprah will be taping in New York City at Madison Square Garden, with her focus on the sixth anniversary of 9/11. Rest assured, her chat with Letterman is not expected to be a serious interview… so you can expect plenty of goofiness from Dave (and maybe a bit from Oprah too). This kicks off Oprah's 22nd season of the show. Oprah and Dave last appeared on a Super Bowl commercial together.
Read More
| E! Online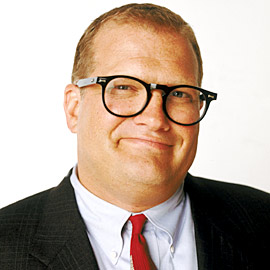 Drew Carey is officially the new host of the Price is Right, the must-coveted gig vacated earlier this summer by Bob Barker. Carey announced his new role to David Letterman during Monday's Late Show taping. Carey will also be hosting another CBS game show next month, the Power of 10. Promotional advertisements for the show have been running most of the summer. Carey will begin on Power of 10 August 7, though it has not yet been announced when he will start on Price. Rosie O'Donnell's name was attached to Price earlier, but the comedienne refused the job when she found she'd have to move to L.A. It's Drew Carey, former ABC fixture, for sure this time, leaving only one question to linger: will he be able to fill Barker's sizable shoes and hold that famous skinny mike?
Read More
| E! Online


Posted by Wendy Michaels Categories: Daytime, Late Night, Talk Shows, Syndication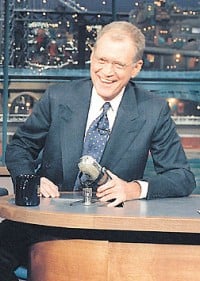 In one of those rare talk show appearances, Letterman will grace the stage of Live with Regis & Kelly for Reege's triumphant return following heart surgery. Letterman's guest appearance shows his continuing friendship with Regis, who filled in when Letterman was out with shingles in 2003. Regis was also the first guest booked on Late Night after Letterman returned from a quintuple-bypass surgery. Regis returns to his gabfest on Thursday, just six weeks after a triple-bypass heart surgery. Their ticker problems are not all the hosts have in common—they also share a doctor, since Dr. O. Wayne Isom performed both of their surgeries. Philbin's return seems speedy, but it's likely that fans have been missing him after the multitude of fill-in hosts. Regis returns just in time for May sweeps… after all, the show must go on!
Read More
| E! Online


Posted by Wendy Michaels Categories: Late Night, Talk Shows, CBS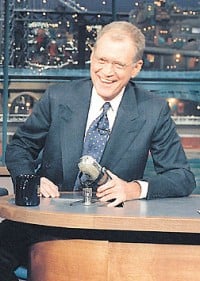 Today's Late Show with David Letterman will have something different—an absent host. Letterman came into work for a taping of the show earlier today, but had to leave because of a stomach bug. What to do when your host is sick? In this case, the show looked no further than one of the guests—Adam Sandler. That's showbiz, folks. The show must go on, even if your fearless leader is throwing up elsewhere. Luckily, he had already taped Wednesday's show and is being pre-empted on Thursday and Friday for NCAA basketball. Question is, does Sandler deliver in a pinch? I know I'll be tuning in to find out. OK, you caught me—I go to bed before Letterman comes on, so I'll DVR it for another day.
Read More
| AOL News


Posted by Wendy Michaels Categories: Daytime, Late Night, Talk Shows, Syndication, Gossip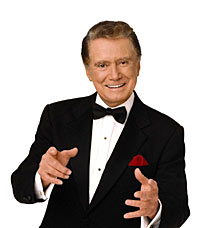 One of the hardest working guys in showbiz is going to have to take it easy for a little while. Regis Philbin, 75 (can you believe that?), has scheduled open-heart surgery for later this week. Philbin made the announcement today on Live with Regis and Kelly, saying, "There's some plaque in some arteries and I got to get it cleaned out." Huh, sounds a bit oversimplified, but Philbin said that chest pains and shortness of breath led his doctors to this decision. He also expressed his concern, saying "Darn it, I don't want to do it. Nobody wants to do it, I guess." Friend of Philbin, David Letterman underwent a quadruple bypass back in 2000. His recovery is expected to take five weeks and perky co-host Ripa commented that she would dress as a nurse and give him a sponge bath during recovery. In the meantime, look for a cavalcade of guest hosts to fill the void on the chatfest.
Read More
| Yahoo! News


Posted by Wendy Michaels Categories: Daytime, Late Night, Talk Shows, Cable, Cable/Satellite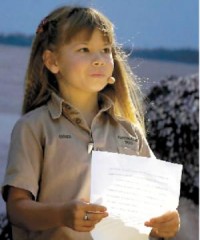 To kick off her U.S. showbiz career, Bindi Irwin, daughter of the late "Crocodile Hunter" Steve Irwin, has a whirlwind tour ahead of her. Pretty lofty for an 8-year-old who recently lost her dad in a freak accident that occurred during filming of a documentary. These appearances will promote her 26-part Bindi, the Jungle Girl series set to debut on Discovery Kids this year. To begin, Bindi will speak at the National Press Club in Washington. She will also do interviews on The Ellen DeGeneres Show and The Late Show with David Letterman. She will also perform with The Wiggles at concerts in Los Angeles and New York. Discovery senior vice-president Annie Howell told Australian media that Bindi will "be welcomed with open arms and rightly so. She's a very special child." Steve Irwin passed away in September, after a stingray barb pierced his heart. His documentary, "Ocean's Deadliest" will air at some point during Bindi's U.S. tour.
Read More
| Retuers


Posted by Wendy Michaels Categories: Late Night, Talk Shows, CBS, NBC, Renewals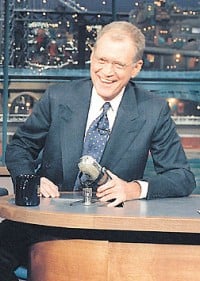 David Letterman has reached an agreement with ABC that will keep the late-night host around for four more years. His contract extension keeps Dave on the Late Show through the 2009-2010 season. Interestingly enough, this is one year past the plan for Leno to step down from the Tonight Show and pass the torch to Conan O'Brien. According to Nielsen Media Research, Leno continues to be the ratings winner, averaging 5.71 million viewers nightly, versus 4.16 million per night for Letterman. The rivalry has been ongoing since Leno took over Johnny Carson's post on the Tonight Show—and it looks like the competition will now continue against O'Brien. CBS Entertainment and Letterman spokespeople had no comment about the negotiations since the deal is not official yet. Even after all these years, I still prefer Letterman to Leno—Leno is more corny than anything, but Letterman's goofy persona wins me over. Goofy beats corny in my book any day, but what to do when Letterman and O'Brien go head to head? Two goofs—don't make me choose!
Read More
| Yahoo! News

© Gear Live Media, LLC. 2007 – User-posted content, unless source is quoted, is licensed under a Creative Commons Public Domain License. Gear Live graphics, logos, designs, page headers, button icons, videos, articles, blogs, forums, scripts and other service names are the trademarks of Gear Live Inc.