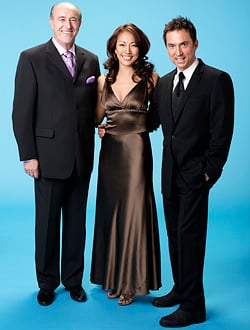 Enough with the separation of the sexes. Monday's show gave us what we wanted to see: the men and women competing on the same playing field. Did Mark Cuban do enough last night to raise his dancing profile? Were Helio and Sabrina able to outdo their own performances from last week? Read on!

MELANIE BROWN (partner Maksim Chmerkovskiy)
(Dance: Foxtrot/ Song: 'Take On Me')
Scary looked beautiful in her pink dress tonight. Despite any grief Maksim may give Mel about her dancing ability, I thought she glided effortlessly across the floor. Len said the 'B' stood for 'ballroom'; he never imagined she would be able to hold her posture so beautifully. Bruno compared her classy look to Lena Horne and her toes to Ginger Rogers. Carrie Ann complimented her posture but advised her to watch her shoulders. Score: 7/8/8 (23)

MARK CUBAN (partner Kym Johnson)
(Dance: Mambo/ Song: 'Ride Wit Me')
While I was slightly disturbed to see him in a sleeveless shirt, I was pleasantly surprised by how fit he looked. And thank goodness the facial hair was gone—what a dramatic difference! He appeared to have a lot of fun with his dance tonight. Carrie Ann wasn't sure if he did a proper mambo, but was certain he made her laugh. Len thought Mark's lower half was a bit wooden—but gave him props for his hard work and will to win. Bruno said it looked like a 'bulldog chasing a squirrel'. Score: 6/6/6 (18)
Click to continue reading Dancing With The Stars: Week 2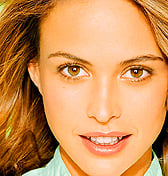 Sometimes an elimination is based on dancing ability, sometimes its based on votes. Tonight's ousting was appropriately a combination of both.
Josie Maran, the uncoordinated beauty, was booted off tonight as widely predicted. The supermodel, who scored a dismal 16 Monday night, faced off with Mark Cuban in the Bottom Two. (The billionaire, who actually earned more points than Floyd Mayweather and Wayne Newton on Tuesday, apparently couldn't buy himself a fan base.) Luckily, it was the sourpuss and her attitude problem that were cast off into Dancing With The Stars history. (I understand she was upset—but did she have to leave on such a bitter note?)
Looking back at what I wrote on Aug. 29th (when the cast was announced), I have to wonder if other women shared my (petty) feelings:
"Josie Maran—The supermodel of the female contestants. I'm already voting against her."
But that's not really why she's gone. We all know she deserved to lose. Right?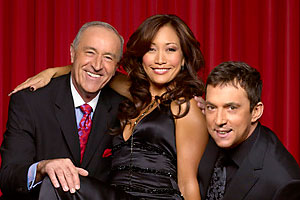 Tonight was Day 2 of the special three-day Dancing With The Stars premiere. Monday was ladies only; this time it was all about the men. Sabrina Bryan set the bar high yesterday with her score of 26. Did any man rise to the challenge tonight?
CAMERON MATHISON (partner Edyta Sliwinska)
(Dance: Foxtrot/ Song: "Moondance")
The All My Children star knows he has a loyal built-in fan base—but would he do enough to actually earn their votes?
Cameron was a bit stiff his first time out, though it could have been due to the degenerative bone condition he suffered as a child (cue violins now). But when he wasn't just standing there looking like Edyta's prop, he looked like he was dragging her across the floor. Len compared the performance to a 'faucet' that sometimes flowed, sometimes splattered. Bruno was impressed with Cameron's long arm lines but said the dance went soft somewhere in the middle. Carrie said they started off a bit weak, but agreed with Bruno on Cameron's lines. Score: 7/7/7 (21)
Click to continue reading Dancing With The Stars: Week 1 (The Men)
Read More
| Dancing With The Stars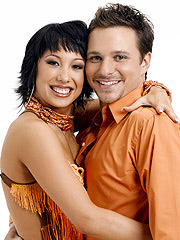 To fill the beautiful sidekick role left open by Samantha Harris, the Dancing With The Stars producers turned to….Drew Lachey. The Season 2 winner—and scheduled host of the DWTS spin-off 'Dance War'—will help make Tom Bergeron look good until Harris' return (assuming she doesn't enjoy her maternity leave too much).
As for the competition, tonight's episode was all about the ladies. (The male contestants will take the stage Tuesday night). Except for the stick-thin yet uncoordinated model Josie Maran (who scored a dismal 16), the women overall did very well on their first time out. But the night was definitely owned by Cheetah Girl Sabrina Bryan. Her fierce and precise moves got her very near a perfect score on Day One (she scored a 26). Will this finally be the season for another female champion? We should probably size up the men tomorrow before placing any bets.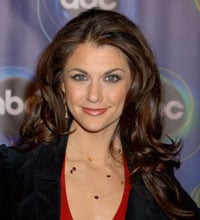 Tom Bergeron is going to be a busy man tonight. In addition to introducing a whole new round of competitors, he'll be welcoming a new Dancing With The Stars co-host. Those who watched last season saw a very pregnant Samantha Harris do the backstage post-dance analysis. One has to wonder if she scheduled her delivery in time to watch the DWTS premiere today. Harris and her husband, Michael Hess, welcomed their own new addition yesterday morning. The baby girl, Josselyn Sydney Hess, is the couple's first child.
As for who will be joining Tom on stage tonight—ABC will not say. They are doing their best to keep one casting selection a secret. (Please don't let it be Lisa Rinna. I'm all Lisa Rinnaed-out right now). But for now, I will go ahead and predict Harris' return next season—as a competitor. How else will she lose the baby weight?
Click here for an update to this story.
Read More
| People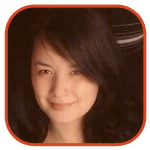 Posted by Veronica Santiago Categories: Prime Time, Reality, ABC, Dancing With The Stars, Announcements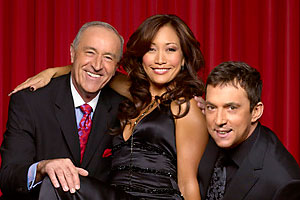 The official lineup for ABC's Dancing With the Stars was announced this morning on Good Morning America. And despite the 'leaked' list you might have heard about this week, here is the correct list as presented by Apolo Ohno, Carrie Ann Inaba and host Tom Bergeron:
Melanie Brown (a.k.a. 'Scary Spice') - Baby momma of Eddie Murphy's latest child.
Sabrina Bryan - 'Cheetah' girl (I don't want to know what that means).
Jennie Garth - 90210 alum #12 (if you include Ian Ziering from last season)
Josie Maran - The supermodel of the female contestants. I'm already voting against her.
Marie Osmond - She's a little bit country.
Jane Seymour - Dr. Quinn Medicine Woman
Helio Castroneves - He's going to drive his partner all over the dance floor.
Mark Cuban - If he doesn't win, he'll probably just buy the network.
Cameron Mathison - A soap star from All My Children. As if ABC needed more publicity.
Wayne Newton - Mr. Las Vegas will have to learn how to share a stage.
Floyd Mayweather, Jr. - Apparently the producers felt all boxers could dance.
Albert Reed - I hear he's a model as well. I approve of this one.

Read More | Dancing With The Stars


Posted by Wendy Michaels Categories: Drama, Prime Time, DVD, Video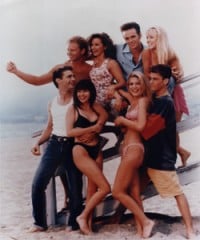 Wow, good times. Beverly Hills, 90210 was a 1990s institution. And now the gang is back together again—only this time, not at the Peach Pit, and only for one night… and without Brenda and Dylan. But hey, you can't have it all! I'm speaking of the recent cast reunion for the DVD release of the first season of Beverly Hills, 90210. "We always worked hard to stay together as a cast," Jason Priestley (Brandon Walsh), told USA Today. Preggers Tori Spelling (Donna), Jennie Garth (Kelly), Brian Austin Green (David), Gabrielle Carteris (Andrea) and Ian Ziering (Steve) were all on hand for the release. No-shows Shannon Doherty and Luke Perry were speculated to be absent because the cast can in no way profit from the DVD sales. Strangely enough, no one considered the technology of releasing series on video/DVD and so it was not included in their contracts.
Read More
| People

© Gear Live Media, LLC. 2007 – User-posted content, unless source is quoted, is licensed under a Creative Commons Public Domain License. Gear Live graphics, logos, designs, page headers, button icons, videos, articles, blogs, forums, scripts and other service names are the trademarks of Gear Live Inc.