Posted by Jacci Lewis Categories: Late Night, Reality, Cable, FOX, Editorial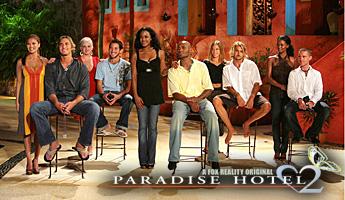 While watching last night's episode of Paradise Hotel 2 on MyNetworkTV (that's the slighty tamer version, the mature-rated version is on FOX Reality Tuesday mornings at 1 a.m. ET/PT), I realized one phrase kept circling around and around in my mind. That phrase?: I seriously don't like these people!
I guess the premise of the show sort of excludes finding individuals with any real depth of character or virtue. After all, the only way to win the "ultimate prize" as it is teased, is to survive the longest by convincing other hotel guests that you'd make a good roommate because you are willing to do ANYTHING to win. But do the hotel guests have to be so dumb and one-dimensional?
First a recap: The show starts with a reminder that Chelsea was sent packing because James and Ryan turned on her when she wouldn't have sex with either of them. James is now roommates with resident virgin Krista. She tells him that she thinks sex just gets in the way for men and women who don't know each other well. That was the last sensible thing anyone said during this episode. Instead of agreeing, James insists Chelsea should have hooked up with someone if she wanted to stay.
Click to continue reading Paradise Hotel 2: Johnny Come Lately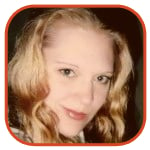 Posted by K.C. Morgan Categories: Prime Time, Reality, NBC, Renewals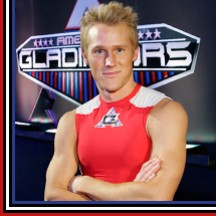 In an action-packed two-hour finale, the two American Gladiators champions were crowned Sunday night. I expected more tough events and plenty of competition, but much of the broadcast was soaked with longer contender interviews, replays of favorite moments from the show and lengthy segments on the four competitors at home.
Twenty minutes were gone in the broadcast before NBC finally gave me what I wanted - an event. The gladiators were in top form, making it difficult for any of the contenders to score points. Lightning-quick Evan Dollard did wow the audience with a spectacularly quick climb up The Wall, for the third time in the show's history. "Soccer mom" Monica Carlson scored big in Assault, sending Gladiator Helga flying from the platform to smack a pool of water. Quickly, it all started to come down to the Eliminator - the obstacle course that's broken so many competitors throughout the season.
Click to continue reading New Gladiators Announced
Read More
| Chicago Tribune


Posted by Jacci Lewis Categories: Prime Time, Reality, CBS, Showtime, Editorial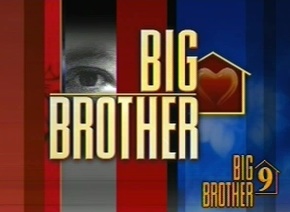 If you've read my past two blogs on Big Brother 9, you may remember me likening the subscription-based 24/7 Big Brother house feed to watching paint dry. My information was based entirely on past seasons. (No one needed to see an uncut version of Chicken George in BB season 1.) Based on what I've been able to pinch off the internet for free this season though, boy was I wrong. In fact, it appears the most interesting things that happen in that house are too naughty to show on network TV.
First though lets talk about what happened on Night 3 in the PG-rated version on CBS. The CliffsNotes version is that Head Of Household pair Amanda and Alex nominated Jen and Parker and Allison and Ryan for eviction. This after Jen and Parker decided to tell everyone that Jen and Ryan are dating and have been for 9 months. They did it because they feared Allison would spill the secret first. In the end, all this dumb bit of strategy did was prove that both couples are a liability and that Jen is a loud-mouth pain in the butt.
Click to continue reading Big Brother 9: Secret Lovers Nominated For Eviction

Posted by Jacci Lewis Categories: Music, Prime Time, Specials, CBS, Editorial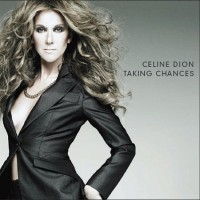 When it comes to singer Celine Dion, most people fall into one of two categories: the 'It's the soundtrack of my life' group or the 'Please God, make it stop…MAKE IT STOP' group. There is a third, smaller category of people though who don't care one way or another about her music but just enjoy how delightfully, over-the-top cheesy she is. (There is a reason certain celebrities are satirized on Saturday Night Live.)
Friday night CBS aired Dion's one-hour primetime special, Celine Dion: That's Just The Woman In Me. The show was taped in front of a live audience at Los Angeles' Wiltern Theatre back on January 12. It was the 5-time Grammy winner's first concert since wrapping up her 5-year run in Las Vegas.
The title of Celine Dion's new album, Taking Chances, describes the show fairly well. It was a one hour mix of glitzy dance numbers, power ballads, celebrity duets and cameos, a somewhat staged Q&A session and heck, even an appearance by one of the stars of High School Musical!
The opening act featured Dion in a sparkly, gold mini-dress in a very Vegas-esque song and dance routine. Her dancing features a lot of little kicks and chest pounding motions. One might describe it as spastic. One might even question why such an accomplished singer needs to be part of such an over-choreographed dance routine. But something about Celine Dion's sincerity makes the whole scary scene a bit more forgivable.
Click to continue reading Celine Dion: That's Just The Woman In Me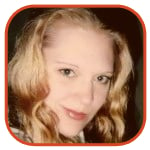 Posted by K.C. Morgan Categories: Music, Prime Time, Reality, FOX, American Idol, Gossip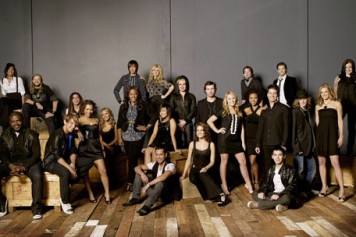 Way before American Idol's seventh season started, fans were treated to a PR blitz that capitalized on how different the show would be this time around. They believed; they watched; they weren't disappointed. Season Seven certainly does have a different feeling and tone at times than previous episodes, and Wednesday's final decision night struck a few sad notes.
One by one the fifty contestants were carried toward the judges who so menacingly waited. One by one they were told to take that long, disappointing ride back down without happy news to report. Enter Carly Smithson, devastating diva from Ireland who missed her Idol chance in season 5. She was the first female to win a Final 12 slot, and I breathed a sigh of relief. This talented lady has definitely earned her place. I was also pleased to see husky-voiced Amanda Overmyer and 16-year-old sensation David Archuleta join the final group. Poor blonde Brook White cried her whole way up in the elevator and grinned with relief the entire way down.
Click to continue reading American Idol 7: A Bittersweet Beginning
Read More
| Associated Press


Posted by Jacci Lewis Categories: Prime Time, Reality, CBS, Features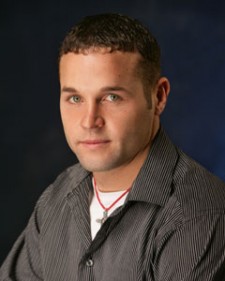 The first eviction night this season for Big Brother 9 saw one unexpected couple go home and another take the reigns of power as the new Heads of Household.
First the eviction: Jen, the Ohio bartender and Parker, the celebrity photographer from Los Angeles won the sole power to evict in the premiere episode. It seemed pretty clear then that total mismatch couple, Sheila and Adam, would be sent packing. But in a strange twist of fate Jacob, the ex-Marine from Georgia proved that he is an even BIGGER tool than Adam. He took his unfortunate partner and bitter ex-girlfriend Sharon with him out the door.
Click to continue reading Big Brother 9: First Eviction Night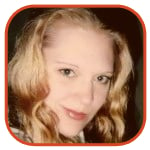 Posted by K.C. Morgan Categories: Music, Prime Time, Reality, FOX, American Idol, Gossip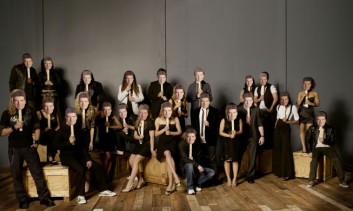 As of Tuesday night, the broadcast of American Idol's Hollywood Week began. After weeks and weeks of watching auditions, fans finally got the chance to catch up with some of their early favorites during this intense round of multiple eliminations.
One hundred and sixty-four singers piled into the theater FOX rents out for the show, with a relative few of them impressing the judges in their very first round. Taking the stage one by one, each contestant sang for the judges' general pleasure (or displeasure, as the case may be). Those who won approval from all three got to sail through the first elimination round, earning a respite before facing the judges again on the third day. It was during this first round the much-touted musical instruments appeared, though precious few seemed to find success with these devices.
Click to continue reading American Idol 7: Changing Up Hollywood Week
Read More
| MTV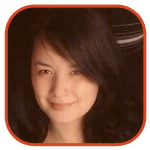 Posted by Veronica Santiago Categories: Drama, Cable, Nip/Tuck, Features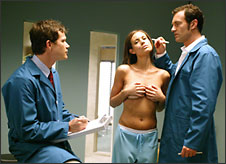 After such a spectacular ending to Nip/Tuck's last episode, this week's started with such a letdown. Whatever happened to Kit? After all, she was only slashed by The Carver, how they could not address that at all? I guess when you're racked with debts, other people's problems fall to the waste side. Sean and Christian can't afford to be doing pro bono work on backstabbing detectives.
Still reeling from the publicity backlash, McNamara/Troy is forced to deal with the financial health of their company. Unsure if they will survive past a few more months, Liz offers to help them out by turning in her resignation. Sean and Christian try to assure her (and themselves) that they will be back up and running very soon.
Click to continue reading Nip/Tuck: Frankenlaura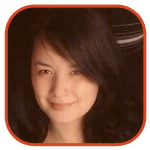 Posted by Veronica Santiago Categories: Drama, Cable, Nip/Tuck, Features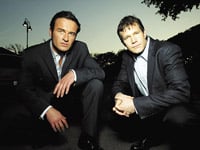 Although I've never been able to stomach surgery scenes, I've ironically been obsessed with anything related to plastic surgery. Who are the freaks behind these stories? Why does that socialite, Jocelyn Wildenstein, insist on looking like a cat? Why does Melissa Rivers want to emulate her mother? Why did those brothers on MTV actually think they could look like Brad Pitt? And more importantly—why do I care? This is why I love Nip/Tuck. It gives this newcomer all I want - and more. Some Nip/Tuck devotees may accuse me of jumping late onto the bandwagon, but I don't care. I'm hooked and I can't stop staring.
Oooh—and did things get all nice and awkward in last week's episode, or what?
Click to continue reading Nip/Tuck: Granville Trapp
© Gear Live Media, LLC. 2007 – User-posted content, unless source is quoted, is licensed under a Creative Commons Public Domain License. Gear Live graphics, logos, designs, page headers, button icons, videos, articles, blogs, forums, scripts and other service names are the trademarks of Gear Live Inc.