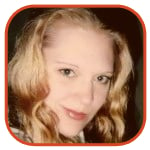 Posted by K.C. Morgan Categories: Music, Prime Time, Reality, FOX, American Idol, Ratings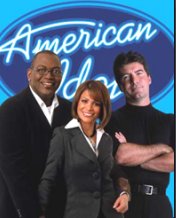 Weeks before Season Seven of American Idol started, judges and producers came forward to talk about the show's new direction. Lackluster record sales and a bit of sag in the ratings last year meant a change had to happen. Instruments will be added this season (at some point), and this year there's much more focus on the singers instead of celebrity guests. More back story, more tears, more focus on the contestants. So…how's it working out for Idol this year?
The FOX reality show is consistently winning at the ratings game, though some of this is no doubt due to strike instead of entertainment value. But there is a subtle difference this year in the Idol auditions. Sans celebrity judges, the camera does seem to be finding contestants instead of stars. Early promises before the season started said viewers would see more talent than ever before…perhaps even the best Idol season ever. This week's auditions ended in Miami (with Atlanta to begin next week). Have viewers already seen the next American Idol?
Click to continue reading New Style for 'American Idol'
Read More
| LA Times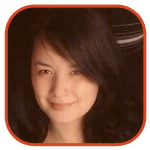 Posted by Veronica Santiago Categories: Music, Prime Time, Reality, Sports, FOX, American Idol, Gossip, Rumors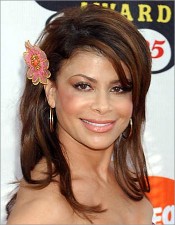 Paula Abdul took some time out this morning to make an appearance on pal Ryan Seacrest's radio show. The special event, which was most likely a precursor to her rumored Super Bowl appearance, was an opportunity for the former pop star to reveal her new single produced by co-worker Randy Jackson.
NOTE: Always debut your new projects amongst friends. At least you can guarantee someone will smile and tell you they love you.
The song, titled "Dance Like There's No Tomorrow" will appear on Jackson's upcoming compilation album: Randy Jackson's Music Club, Vol. 1. Click here to listen to the song for yourself. If you were Simon - would you let her compete in American Idol's Hollywood round? Or would you kindly tell her to stick with dancing and crying?
Read More
| KIIS-FM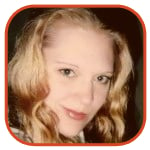 Posted by K.C. Morgan Categories: Music, Prime Time, Reality, FOX, American Idol, Ratings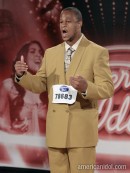 Solidifying its reputation as the number one show in the U.S., American Idol's seventh season premiered last night to a staggering 33.24 million viewers. How did the other networks fare in the face of such stiff competition? Well, if you take all the viewers on all the other networks and add them together, you might get close to the numbers FOX pulled down with just one episode of their reality hit. And it's not over yet - Idol will return twice a week for the next few months.
Click to continue reading Number One 'American Idol' Stands Alone
Read More
| TV Guide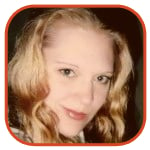 Posted by K.C. Morgan Categories: Music, Prime Time, Reality, FOX, American Idol, Gossip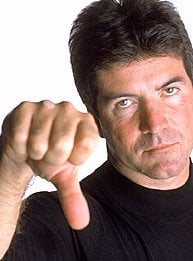 The audition portion of American Idol - arguably the best part of the whole bloody show - will begin airing next week, and judge Simon Cowell (my personal favorite) will no doubt light into singers with his usual acerbic tongue. But Cowell says even his criticisms are meant to be constructive.
Speaking from London (don't worry - he'll be Stateside in time for Idol's seventh season), Simon explained it all in an interview: after listening to bad singers for seven years, it can all get rather trying - and sometimes, words probably do come out a little harsh. Really? Tell me more. I can't wait to listen to the Dreamcrusher at work.
The host said this year's crop of talent is strong, young and more interesting. Than who - Sanjaya? That'll be hard to beat. Cowell called the cast "fresh" and "memorable," but admittedly they don't have a tough act to follow.
The judge went on to say that he might be finished with Idol when his current contract expires in two more years. Good - maybe then he'll do his own show. That's something I've been waiting on for years.
(You can find all the American Idol 7 posts here.)
Read More
| LA Times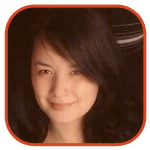 Posted by Veronica Santiago Categories: Action, Comedy, Drama, Games, Prime Time, Reality, Sci-Fi/Horror, ABC, CBS, FOX, NBC, The CW, Hell's Kitchen, Apprentice, The - Donald, Prison Break
Thanks to the writers' strike, the Fall TV Programming Schedule I put together many months ago will now have to be burned. Reality shows and mid-season replacements are now being brought in earlier than expected.
Here's a list of the TV premieres announced so far. TV Envy will be publishing a revamped programming schedule as soon as more dates are released.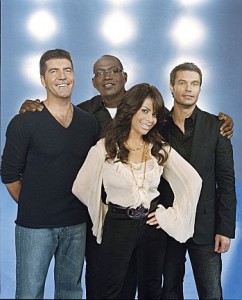 12/12 - Crowned (CW)
1/2 - Law and Order (NBC)
1/3 - Celebrity Apprentice (NBC)
1/6 - American Gladiators (NBC)
1/7 - Dance War: Bruno vs. Carrie Ann (ABC)
1/8 - One Tree Hill (CW)
1/9 - Law and Order: CI (NBC)
1/11 - 1 vs. 100 (NBC)
1/13 - The Sarah Connor Chronicles (FOX)
1/14 - Prison Break (FOX)
1/15 - American Idol (FOX)
1/23 - The Moment of Truth (FOX)
1/28 - The New Adventures of Old Christine (CBS)

Click to continue reading Upcoming Television Premiere Dates




Posted by Wendy Michaels Categories: Award Shows, FOX, American Idol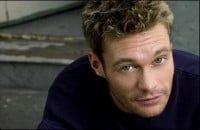 Good grief. Is this going to be a daily occurence? I'm talking about another announcement that Ryan Seacrest will be hosting yet another show. This comes, literally, on the heels of the announcement that he'll be taking on hosting duties for this year's Super Bowl. His next gig? Oh, a little show called The Emmys. Of course, I suppose it's a better fit pairing him with a television awards show than it is putting him with football. While Emmy hosts traditionally are folks that can bring the funny and inject a bit of personality into the proceedings, I'm not sure Seacrest has what it takes. Sure, he knows how to stretch out an American Idol broadcast and he can banter with sourpuss Simon Cowell, but does he have the necessary excitement to bring to the Emmys? Heck, is there any show this guy can't host? I guess we'll be finding out soon enough when he takes on both Super Bowl and Emmy duties.
Read More
| Yahoo!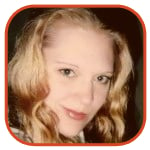 Posted by K.C. Morgan Categories: Music, Prime Time, Reality, FOX, American Idol, Gossip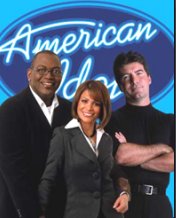 American Idol's seven-city auditions tour has begun, and thousands have already lined up to get fifteen seconds in front of Simon, Randy, and Paula. More than 12,000 turned out in San Diego, but the line outside the Texas Stadium this week stretched to 30 people wide. Among them was LaCondra Davies, whom faithful viewers may recognize from last season. Davies made it to Hollywood Week last year, but no further. This year, Davies says she knows the game. As temperatures climbed to 90 degrees in the Texas heat, ice packs were passed around to waiting contestants. It was in Dallas that Kelly Clarkson, the first Idol, was discovered – she's from nearby Burleson. Has the winner of season seven already been selected to move on to Hollywood week? The next Idol auditions will be held in Omaha, Atlanta, Miami, Charleston, and Philadelphia, with Idol returning to the small screen in January 2008.
(You can find all the American Idol 7 posts here.)
Read More
| Yahoo! News


Posted by Wendy Michaels Categories: Music, Reality, FOX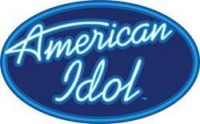 And you thought that Beyonce going on with the show after she recently fell down a flight of stairs while singing was impressive… one of the hopefuls for American Idol went into labor during the audition process. It happened during Tuesday's Dallas tryout, where Antoria Gillon started having contractions during her audition in front of the producers. Seems that since waiting in line since 2 a.m. the night before, Gillon wasn't going to let anything stand in her way. She said, "I kept singing. One of the judges gave me her seat! I told her I had been there all day, and nothing was going to stop me from singing. I hadn't been there all day for nothing!" This has got to be one of the truest cases of "the show must go on." The happy ending is two part—first, Gillon was taken to a nearby hospital, where she delivered a baby boy; second, she got the coveted "golden ticket" to go to the next round. Of course, this Idol first had many wondering what she named the new baby—Simon, perhaps? Nope, but she did give a shout out to the talent competition by naming him Jamil LaBarron Idol McCowan. Now that's some delivery story!
Read More
| Us Magazine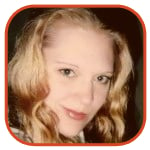 Posted by K.C. Morgan Categories: Music, Prime Time, Reality, FOX, American Idol, Talent, Gossip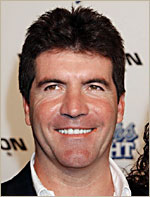 Simon Cowell, the American Idol judge everyone loves to hate, will be producing Star Struck, his first feature film. A musical, the movie was inspired by Fame (that fabulous 1980s flick), and will detail the behind-the-scenes life of ten contestants in a televised singing competition. Cowell says the story will told through the eyes of the competitors, but it is an underdog story. Cowell also said it's a "feel-good film." The ten actors in the film will be chosen through casting calls, open auditions that will be held in several U.S. cities next year. Simon Cowell told reporters he hopes to use unknown actors and actresses in the film, and he will be present for a major portion of the open auditions.
Click to continue reading Simon Cowell to Produce Feature Film
Read More
| E! Online


Posted by Wendy Michaels Categories: Music, Prime Time, Reality, FOX, American Idol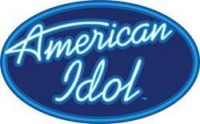 Wow, could it be time for American Idol auditions already? Seems like we just put that whole Sanjaya hair talk behind us and were moving on. Last season of Idol was tough on me. I used to really enjoy watching it, but this past season? Well, Idol, I don't think I love you anymore. It's not that I don't like you… I think you're great and everything, but this year dragged on and I felt… trapped. Yep, that's it. I felt like I had to keep watching you—you, with your smug host and snarky Brit judge, the kookoo lady that broke her nose, and the king of the Dog Pound. I hoped it would get better, but it didn't. I'm not sure if I'll ever get over you, but I'm going to try. I wish we could just take a long break from each other, but I heard that you're looking for new talent for the next round. I need time for my wounds to heal, but you're right back at it. When the dust settles, I hope we can still be friends. Sigh…. Okay, so I got a little tired of Idol last season—tell me I'm the only one! And today I just read that Fox has announced audition dates/locations for the next season, which will air in January 2008. Auditions kick off on July 30 in San Diego, then they hit the road and check out the talent in: Dallas, TX; Omaha, NE; Atlanta, GA; Charleston, SC; Miami, FL and Philadelphia, PA. Those auditioning must be between the ages of 16 and 28. Good luck!
Read More
| Reality TV World

© Gear Live Media, LLC. 2007 – User-posted content, unless source is quoted, is licensed under a Creative Commons Public Domain License. Gear Live graphics, logos, designs, page headers, button icons, videos, articles, blogs, forums, scripts and other service names are the trademarks of Gear Live Inc.